---
Product Overview: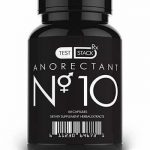 Product:
Manufacturer: Bio Nutraceuticals LLC
Website: TestStackRx.com
Rating: 9.5/10 (Rating Details)
Price: Check Current Price
Additional Info: Discount Coupon Code, See Below
---
What is Anorectant No. 10?
Weight loss supplements are a dime a dozen, and because I've tried so many of them it's not really a subject which creates much excitement for me any more.
But when I was given the opportunity to try out the new fat burner from Test Stack Rx called Anorectant No. 10. (TestStackRx.com), I was actually eager to give it a shot. Since it's manufactured by the makers of Test Stack No. 17 (a world-class test-booster) it promised to be product that delivers exceptional results.
Now, I really thought I'd seen it all when it comes to fat burning supplements, but this one surprised me. First of all, I didn't know much about this product before-hand, so after taking a brief look over the ingredients I gave it a try.
I knew that it contained at least one stimulant (caffeine) in unknown quantities, so I was prepared for that. But what I got was totally unexpected. There was definitely a noticeable increase in energy, but it came on gradually and was very clean and natural-feeling.
There was absolutely no jitters or any other unpleasant side effects. But what's more, I noticed that my mood was elevated, I felt more positive and motivated. My thoughts seemed to form quicker. I knew it wasn't just my imagination, so what was going on here?
I decided to take a more in-depth look at the list of ingredients, and that's when I realized that this wasn't just any old fat-burner, it's also a brain-booster, and even a performance enhancer as well. This might seem a like a lot for just one product to deliver, but it's actually a brilliant and amazingly versatile supplement.
Ingredients
The formulation that makes up Anorectant No. 10 is designed to induce weight loss and increase energy, as well as enhance cognitive and physical
performance. There are three primary stimulants in the Anorectant formula, which are caffeine (1,3,7-trimethylxanthine and Paulinia Sorbilis), theacrine (1,3,7,9-trimethyluric acid) and rauwolscine.
We're all familiar with the effects of caffeine, but theacrine is a close relative, being structurally similar, and superior in many ways. It's effects are longer lasting, much cleaner, do not cause jitters or "crashing", and it's non-habit-forming.
Likewise, rauwolscine is a form of yohimbe, but a better version. It provides the same ability to melt stubborn fat areas without the common negative side effects commonly experienced with yohimbe supplementation, like jitters, increased blood pressure, headaches, nausea, etc.
Choline bitartrate is well known for it's ability to boost mood, mental function, and physical strength.
L-tyrosine, l-tartrate, and both l-carnitine and acetyl l-carnitine are amino acids that are effective at burning fat, enhancing performance, improving cognition, and supporting a healthy heart and blood pressure levels.
Another amino acid included is l-theanine,  an anti-oxidant that supports the nervous system and has plenty of other benefits, including thermogenesis. It produces a calming effect, but at the same time provides a level of alertness rather than the drowsiness you might expect.
Dandelion extract (taraxacum officinale) is included for it's diuretic properties, which really helps eliminate any excess water and/or bloating you might have, and prevents it from forming in the first place.
Many of these ingredients also have even more beneficial properties, including improving cardiovascular health, and fortifying the function of the liver and kidneys, among others.
Side Effects
Warning: this product may cause rapid weight-loss, increased energy levels, and a boosted metabolism, as well as improved mood, memory, and motivation. If you can live with this type of drastic lifestyle change, then this just might be the supplement you've been looking for.
But there are some less pleasant side-effects you should be aware of that may affect certain individuals.
L-tyrosine increases metabolism by raising thyroid hormone production, so use caution if you have a hyperactive thyroid.
And for those who suffer from depression, choline bitartrate may worsen your symptoms, and it's not suitable for individuals with bipolar disorder.
Those who are sensitive to caffeine or other stimulants may want to start out with half a dose until you can gauge your response. As always, if you have any medical condition, or are currently on medication, talk to your doctor before using this product.
And since Anorectant No. 10 does contain a diuretic, you may also find that you have to pee more often than you normally would. So there's that.
Customer Reviews Video
Actual reviews and testimonials from REAL Test Rx customers...
How to Use
This is definitely a very versatile product and can be used in any number of ways. It works not only as a fat-burner, but can also be used as a nootropic, a performance enhancer, or as a pre-workout supplement.
So as far as directions for taking Anorectant No. 10, it really depends on what your primary focus is. If your main goal is fat loss, the standard dosage is two capsules per day, but no more than four.
The unique combination of stimulants and mood enhancers will not only have you burning calories all day long, but will keep you motivated as well. It's probably best to take it in the morning since the effects tend to be long-lasting.
If you're taking Anorectant No. 10  as a pre-workout  or performance enhancer, take one or two capsules about an hour before physical activity. Not only will the ingredients boost your energy levels, but your mental focus and motivation will be heightened as well, providing excellent results.
For improving cognition and mental performance, one capsule will probably be enough for whenever you need a boost in brain function.
Where to Buy and Discount
Currently, Anorectant No. 10 is available for purchase directly from the Test Stack Rx website. It is also some pretty expensive stuff.
The good news is that there's a discount code you can use when checking out to get two bottles for the price of one. Just enter the coupon code AN10BOGO. Like I said, it's expensive, so using this code will really cut down the cost.
Conclusion – Does it Work?
Anorectant No. 10 works. It does what it claims to do and more.
It will definitely speed up your body's fat-burning process, boost your mood and mental function, and give you a natural-feeling energy that lasts throughout the day – and with no negative side-effects.
That being said, it is expensive – very expensive – but it does work. And it does the job of multiple products, plus it's far more convenient to take.
At the very least it's better than wasting your money over and over again on stuff that simply does not perform. And don't forget about the coupon code AN10BOGO to buy two bottles for the price of one, it will save you a bundle.
For price and more information, go to the TestStack Rx website.
Have you tried Anorectant No. 10? I'd love to hear about your own personal experiences. Feel free to leave a review or comment below.
---
See Also: Choosing the Best Fat Burner for Men
---
Overall Rating
Anorectant No. 10
Energy/Metabolic Increase
9.5/10
Fatburning Effectiveness
9.5/10
Increase in Mood & Focus
9.4/10
Appetite Reduction
9.0/10
Quality of Ingredients
10.0/10
Pros
Effectively boosts metabolism and melts fat.
Increased energy without jitters.
Boosts motivation and mental function.
Helps eliminate bloating and fluid retention.
No negative side effects.
Cons
Really expensive.
Only available for online purchase.