Last Updated on September 16, 2023 by Mark McIntyre
---
Product Overview:
Product:
Manufacturer: Roar Ambition Ltd.
Website: 4Gauge.com
Rating: 9.5/10 (Rating Details)
Price: Check Current Price
Additional Info: See Below
---
Over the years, I've learned a lot about exercise and fitness, and a lot about what the best workout supplements should offer. It seems like the guys over at Roar Ambition have really been on a roll lately when it comes to producing these types of products.
They've already turned out excellent brands like Instant Knockout, Prime Male, Testo Fuel, and Mind Lab Pro. So when I found out they had a new pre-workout powder on the market called 4 Gauge, I was all ears.
Quickly becoming one of the best-reviewed preworkout supplements out there, 4 Gauge already has a host of fans across the country. It's safe, easy to take, and it's not made from anything scary, so I was more than eager to give it a shot and try it out for myself.
What Is 4 Gauge?
4 Gauge (4Gauge.com) is a supplement designed to fine-tune your focus during your workout and maximize the results you see afterward. Developed by using a well-researched list of natural nutrients, 4 Gauge is completely safe to use and (according to it's makers) guaranteed to get results.
Unlike a lot of supplements that come straight out of the lab, this one was developed by fitness professionals who understand what it takes to improve the time you spend at the gym. 4 Gauge is more than just some protein powder; it's a comprehensive product that is intended to boost energy and escalate results throughout every facet of your workout.
How Does It Work?
With a goal to improve both body and mind, 4 Gauge talks a big game, but its abilities live up the hype. The ingredients – all natural ingredients, I might add – are designed to go beyond typical supplements to enhance the entire workout experience, including benefits like:

More power and momentum in the gym, allowing you to push harder and go longer
Bigger, better results, including faster muscle building and sizable gains
Extended energy and increased blood flow to your muscles
Natural formula with only 5 calories per serving
Among its other advantages, 4 Gauge is also supposed to help focus while at the gym, and I have to admit, this is the kind of thing that appeals to me. I know a lot of you are the type to lose patience when working out, with boredom setting in after only a couple of sets.
In fact, many guys can't even force themselves to work out at all. Focusing on mental energy is something few supplements can do, so this facet really puts 4 Gauge in a different category.
Ingredients
Many supplements use phrases like "proprietary blends" to describe what's in them. While this kind of sales pitch sounds great, it doesn't necessarily mean anything, and can even be used to disguise a dangerous or ineffective ingredient list.
In an effort to be up front, 4 Gauge is completely transparent about what it has to offer. Here are some of the most important elements in the 4 Gauge cocktail:
L-Citrulline Di-Malate
A little-known but highly effective vasodilator, Citrulline Malate is derived from watermelon and is fully natural. Within the body, Citrulline is converted into L-Arginine, an amino acid that promotes nitric oxide, which increases blood flow to the muscles.
Caffeine and L-Theanine
Anyone who drinks coffee every morning before trudging to the office knows the power of caffeine, but not everyone knows the brain-boosting interaction between caffeine and L-Theanine. An amino acid that raises levels of calming neurotransmitters in the brain, L-Theanine neutralizes the jitters that come with your typical energy jolt to keep you calm and focused.
Rhodiola Rosea
A Scandinavian herb beloved by both athletes and academics, Rhodiola Rosea has been demonstrated in clinical studies to reduce feelings of depression and fatigue while enhancing overall cognition and well-being. With the ability to drive motivation, Rhodiola Rosea helps you get excited to hit the gym.
Red Beet
A long-time favorite of athletes, this natural substance has the ability to improve output at the gym through the enhancement of anaerobic performance. In fact, in clinical studies, red beet has demonstrated increased ability by up to 4.2%.
Creatine Monohydrate
To anyone who's been around a gym for more than a week will know about the benefits of using creatine supplements. It's  molecule that has both performance-enhancing and neuroprotective properties. Probably the most researched workout supplement ever, creatine has been shown to improve strength, increase lean muscle mass, and help the muscles recover more quickly during exercise.
Acetyl-L-Carnitine
Acetyl-L-carnitine is an amino acid that helps the body produce energy. It is important for heart and brain function, muscle movement, and many other body processes and has been linked to reducing fat, fatigue and muscle damage.
Coconut Water
Coconut water is naturally rich in nutrients that help increase hydration while replenishing electrolytes and decreasing blood pressure, all great for anyone engaging in strenuous physical activity.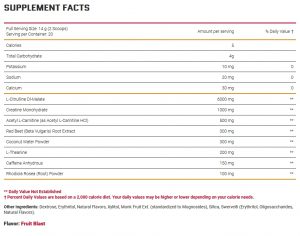 Side Effects
Due the unique makeup of 4 Gauge, there's little risk of any real side effects. In fact, virtually none of the ingredients have any potential negative symptoms at all.
The only exception might be caffeine, but most of its negative effects are tempered by the presence of L-Theanine. Users who take 4 Gauge shouldn't feel jittery, angry, hostile, or lightheaded, providing energy and strength with no risk of a crash.
4 Gauge is also impervious to doping tests; since there's nothing in it that will show up on a drug panel, you can supplement your workout with confidence.
How to Use 4 Gauge
Like most other pre-workout supplements, 4 Gauge is a powder that you can mix into the beverage of your choice. With effects that last roughly two to four hours, users can take 4 Gauge anywhere between 15 and 45 minutes before heading to the gym.
The recommended serving size is two scoops, but those who feel like they need more are OK to take a double dosage. Despite the benefits, 4 Gauge users are encouraged to cycle it's use, taking a week off every six to eight weeks in order to maintain sensitivity to the ingredients.
This isn't required, of course, but cycling can usually make a difference in effectiveness. Currently, the 4 Gauge team only makes one flavor called "Fruit Explosion", and it features no artificial ingredients or colors.
I wouldn't say it's so delicious I crave it when I don't take it, but it was much better tasting than other powders I've tried, and I certainly didn't hate it.
Reviews
Where to Buy
4 Gauge is available for order directly from the official website. One container is good for 20 servings, which will last approximately a month, or more, depending on how often you work out and how much you take.
Shipping is free to almost anywhere in the world, and you can pay with PayPal or by credit/debit card.
Bottom Line – Does It Really Work?
Based on my personal results, I have to say yes! While using 4 Gauge I lost weight and definitely gained some definition due to more focused and productive workouts. It's a nice, clean preworkout supplement that really does what it's supposed to do: provide energy and focus for the gym.
With a fully natural blend and some really effective ingredients, even a busy man who's lost interest in working out can get back on the horse again. You'll have to do the hard work yourself, but 4 Gauge can definitely help you get a little further, a little faster.
For more details, including price and other info, check out 4Gauge.com.
---
See Also: My List of the Top-Rated Preworkout Supplements
---
Overall Rating
4 Gauge
Pros
Provides noticeable energy and focus for workouts.
Effective, all-natural ingredients.
No negative side-effects.
Only 5 calories per serving.
Cons
Availble only through the 4 Gauge website.
Only one flavor offered.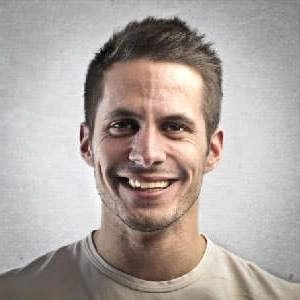 Mark McIntyre is the founder of MaleHealthReview.com and acts as it's chief contributor. He is a fitness trainer and avid mountain biker who also enjoys camping, hiking and fishing. Besides managing Male Health Review, Mark is also a guest columnist for several blogs related to men's health. More about this author…