Protein Supplements
No matter if you're a competitive bodybuilder, part-time fitness enthusiast, elite athlete, or vegan, it seems that these days everyone is jumping on the protein powder bandwagon—and rightly so. From weight lifters to weight watchers, more and more fitness-minded people are choosing protein powder to meet their specific nutritional goals.
Protein powder supplements are concentrated forms of animal and/or plant protein that are used for muscle growth, tissue repair, nutritional requirements, and as a way to curb the appetite.
But in particular, if you're after bigger muscles, enhanced performance, and better overall results from your training, then whey protein is going to be your best bet.
How to Choose the Best Protein Powder
While nourishing your muscles on the go has never been more convenient, some products are better than others, and making a decision about which powder is best can be a real dilemma. On the one hand, you have your animal-based powders made from whey, eggs, and casein. On the other hand, there's a wide variety of vegan and plant-based protein powders to choose from, including those made from soy, rice, peas, and hemp.
Even after you've settled on the type of protein, you still need to be on the lookout for yet another aspect: additives. You'll find that many powders being sold are full of artificial colors, sweeteners, and other additives, which ironically makes some of these products some of the unhealthiest foods available.
---
The Top 5 Protein Supplements
Based on extensive research, testing, and reviews, we've assembled the following list of the best protein powder supplements available. Most of these products are somewhat of a well-kept secret among elite athletes and bodybuilders, and you won't find them on the shelves of GNC or Walmart, or for sale on Amazon.
Whether you're looking for protein to support workout performance, weight gain and bulking, meal replacement and weight loss, or one that's vegan-friendly, you'll find something on this list for just about everyone.
---
1. Crazy Nutrition Tri-Protein
Crazy Nutrition's Tri-Protein tops our list of the best protein supplements, and it's every bit as effective as it is comprehensive. This amazing protein powder contains 6 different types of protein that are designed to release in 3 phases for easier absorption and to keep your muscles fueled for longer.
These include:
Whey Protein Concentrate
Whey Protein Isolate
Whey Protein Hydrolysate
Milk Protein Concentrate
Micellar Casein
Calcium Caseinate
Tri-Protein is also made with the patented ingredient DigeZyme®, which helps to prevent sore and tender muscles, even after the most intense workouts. It also helps to increase the absorption of vitamins and minerals, allowing you to get the maximum amount of nutrients from the foods you eat.
And the taste is phenomenal, flavored with real cocoa powder, and just a touch of sucralose for sweetness – no sugar or added fats would to screw up your macros. It's a perfect way to meet your protein demands every day while satisfying those cravings for a sweets without consuming any added sugar.
Flavors: Chocolate
Ingredients:
Directions: Mix one Scoop (30 grams) to 8-10 oz. of water or milk in a shaker bottle and shake well and. Drink.
Servings Per Container: 30
Bottom Line: Crazy Nutrition Tri-Protein is made up of 21 grams per serving of 6 different protein types, all of which combine to replenish and reduce soreness of muscles after your workouts, and promote the growth of lean muscle mass. Add to that the FREE worldwide shipping and you've got all the ingredients for a seriously must-try protein powder.
---
2. Transparent Labs Mass Gainer
For those who are serious about packing it on during the bulking phase, the ProteinSeries Mass Gainer from Transparent Labs delivers one of the purest and most effective muscle-building and weight-gaining formulas available.
Loaded with everything you need to trigger the growth of  lean muscle mass, Mass Gainer delivers a whopping 53 grams of protein, 750 calories, and 109 grams of healthy, clean carbs per serving. Made from whey concentrate, the whey protein is sourced directly from cows that have been raised on 100% grass-only diets, free from hormones and steroids.
The carbohydrates are derived from organic oats, tapioca and sweet potatoes, and it's sweetened with stevia & monk fruit. Coconut milk and MCT's (medium-chain triglycerides) are also added, and for good measure there's even some creatine thrown in for muscle growth and support.
And absolutely no artificial colors, sweeteners, or artificial additives.
Flavors: Chocolate, Cookies 'n Cream, Sweet Vanilla, Chocolate Glaze Donut (note: the Cookies & Cream flavor is NOT Gluten Free).
Ingredients:
Directions: For putting on muscle mass, mix 2 scoops of powder with water during the day. For those who are serious about weight gain and require additional calories, mixing with whole milk instead of water is best.
Servings Per Container: 30
Bottom Line: If you've been searching for the perfect weight gainer and/or meal replacement protein shake to supplement your diet and exercise regimens, Mass Gainer by Transparent Labs is the solution you've been waiting for.
---
2. Bulk Supplements Whey Protein Isolate
Bulk Supplement's Whey Protein Isolate is a 100% organic, vegan-friendly protein powder formulated with Oryzatein®, the only rice protein patented for enhancing athletic performance. Oryzatein is the only rice protein shown to build muscle as effectively as whey, with leucine that absorbs 30% faster.
Many animal protein powders can undergo extensive chemical processing, and even plant proteins can be made with neurotoxic, environmentally unsafe synthetics. Not to mention the artificial colors, preservatives, sweeteners flavorings that are commonly used.
SPORT Protein is 100% certified-organic protein formulated for superior taste, quality and cleanness. Formulated with Oryzatein, the only rice protein verified by independent research to have the following benefits:
Replenishes muscles as effectively as whey protein powder
Delivers leucine (the main amino acid for muscle growth) at an absorption rate of 30% faster than whey protein
Acts as a complete protein in powdered supplement form
Builds muscle
Improves endurance
Increases power
Supports workout recovery
Enhances strength
Curbs appetite
Contains the probiotic Bacillus coagulans, which improves protein absorption.
Flavored and sweetened with organic cocoa, vanilla, cinnamon, yacon root, stevia and monk fruit, Performance Lab's Protein powder is one of the cleanest and tastiest protein powders that you can buy. It mixes quickly and easily in a shaker bottle – so no need for a blender.
Flavors: Chocolate
Ingredients: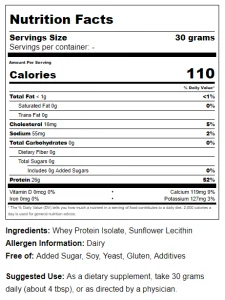 Directions: Add 2 scoops of powdered protein (30 grams) with 8 – 12 oz of water in a shaker bottle 2-3 hours prior to working out to boost strength and stamina. Or take immediately after workout to speed recovery and boost muscle growth.
Servings Per Container: 30
Bottom Line: Performance Lab SPORT Protein is a clean, vegan-friendly protein shake that can be used  to support anyone's performance, fitness, and weight loss goals. A super-high-quality, state-of-the-art protein powder, and one that is HIGHLY recommended.
---
4. Organifi Complete Protein
Out of all the protein supplements on the list, Organifi Complete Protein is without a doubt the most comprehensive and versatile. It's specifically designed to be a meal replacement, so it's produced with an ingredient profile primarily focused on a balance of nutrients.
Like Performance Lab Protein, Organifi Complete Protein is also made with plant-based complete proteins (meaning it contains BCAA's and the nine essential amino acids), and does not contain soy protein (a source of phytoestrogens). This powder is also USDA-certified organic, non-GMO, gluten-free, dairy-free, and vegan-friendly, making it safe to use for those having common dietary restrictions.
Organifi Complete Protein actually provides a wide range of benefits. It's loaded with nutrients and key ingredients to help rev up your metabolism, boost energy, and bolster your immune system.
Here are some most notable benefits associated with using this powder:
Boosts metabolism, keeping you energized and focused
Made with super-clean plant protein that curbs appetite
No unpleasant side effects
Formulated with high-quality organic ingredients
Contains an optimal balance of protein, carbs, and medium-chain triglycerides
Includes digestive enzymes to prevent bloating and GI issues
Makes a quick and easy alternative to meals, saving you time and calories
Only has 170 calories per serving
Nutritional content and optimal health are the main focus of Organifi Complete Protein, and each serving provides:
20 grams of plant-based protein
Omega-3 fats from organic MCT Oil
Plant-sourced digestive enzymes
2 grams of soluble fiber
50% of recommended daily Vitamin-A
50% of recommended daily Vitamin-C
50% of recommended daily Vitamin-D
50% of recommended daily Vitamin-E
60% of recommended daily Selenium
50% of recommended daily Thiamin
35% of recommended daily Iron
45% of recommended daily Molybdenum
Flavors: Chocolate, Vanilla
Ingredients:
Directions: The recommended serving is two scoops mixed with at least eight ounces of water, milk, almond milk, soy milk, or other milk alternative. You could use more than eight ounces if you'd prefer, or even add some fruit to make a smoothie.
Those who engage in strenuous exercise or are replacing meals might want to use up to three scoops at once, depending on your nutritional and caloric needs.
Servings Per Container: 30
Bottom Line: Besides its delicious flavors and velvety smooth texture, and being convenient and easy to use, Organifi Complete Protein is super-clean, 100% organic, lactose-free, anti-inflammatory, pro-digestion protein powder with a complete amino acid profile. No matter your age, fitness goals, or lifestyle, this is an excellent product for just about anyone.
See Also: My Full Organifi Complete Protein Review
---
5. Iso-Smooth
If you're comparing the numbers when it comes to protein powders, you'll find that Iso-Smooth isn't just good – it's one of the best. It has an amazing protein content of 91%, which is among the highest of any protein supplement ever produced – and the proportions of leucine, BCAAs, and essential amino acids are make this product an all-around superb protein shake mix.
The whey protein isolate in Iso-Smooth is made from a trademarked whey protein isolate called biPro®, which has an astounding 97.6% purity. This has been called the single purest protein that's commercially available on the planet, and one of only a few that scientifically show to be free of sugar, lactose, fat and cholesterol.
Under most circumstances, squeezing 30 grams of pure protein into a single serving would call for a significant increase to the serving size, but not with Iso-Smooth. The biPro® whey protein isolate used to make Iso-Smooth is so pure that it will deliver all the nutrition you require in one delicious, protein-laden, low-calorie serving.
Flavors: Caramel Macchiato, Triple Chocolate, Chocolate Caramel, Chocolate Peanut Butter, Vanilla Cake Batter
Ingredients:
Directions: Add 1 scoop of Iso-Smooth with 8-12 oz of water, milk, juice or other beverage. Mix well and enjoy.
Servings Per Container: 30
Bottom Line: When choosing a whey protein supplement to use for muscle growth and recovery, one of the most important aspects to consider is purity – and not all whey protein products are equal in that department. Iso-Smooth is formulated with a 97.6% pure protein isolate – containing no fillers and zero grams of sugar – to make Iso-Smooth one of the purest protein powders currently available.
See Also: My Full Iso-Smooth Review
---
Benefits of Protein Powder
Protein is a vital component of a well-balanced diet. Because of the large amounts of protein found in protein powders, these types of supplements are a great way to get more protein into your diet while being low in calories, fat, and carbs .
Here are a few benefits you can experience from adding protein powder to your diet:
Muscle growth: Protein is crucial for building and maintaining muscle mass. Since they're processed, protein powders deliver more bioavailable amino acids than you would get from just eating high-protein foods. These amino acids are vital for encouraging muscle growth and repair.
Weight loss: Protein powder can help to promote your efforts for rapid weight loss by increasing caloric burn, reducing appetite, and maintaining lean muscle mass. Because protein powders are often lower in calories and fat than protein-rich foods, you can add one or two scoops to your smoothies and shakes (or even foods like baked goods and pancake batter) for an easy way to get these weight loss benefits.
Maintain Optimal Nutritional: From vegans and vegetarians, to fitness enthusiasts and those leading busy lifestyles, there are any number of reasons why you might need more protein in your diet. Blending protein powder with fruits, vegetables, and healthy fats to make a nutritious shake or smoothie can be a quick, healthy, and delicious meal replacement.
The ease and convenience of using protein powder makes it an excellent choice for on-the-go nutrition like shakes and smoothies – but you can also add it to other foods to increase protein intake. Some ideal foods to add your protein powder to include things like oatmeal or yogurt because it dissolves easier in foods with a higher liquid content. Other good foods to add whey with are things like peanut butter, which has a higher fat content that helps combat the dryness that whey protein sometimes can cause.
With all this said, remember you will need to put in the effort at the gym for any protein powder to help make your muscles grow. After all, whey protein alone won't develop big muscles – for that you need to be consuming more calories than you're burning (aka, a calorie surplus) and getting plenty of total protein (ideally 1 gram per pound of body weight).
Which Type of Protein Powder is Best?
This is the Whey
Studies show that taking whey protein powder combined with resistance training can help the body to maintain lean muscle mass while boosting both upper- and lower-body strength.
However, if you've ever been shopping for protein powder you know that there's a dizzying array of different types of protein to choose from. So what make whey the protein of choice?
One of the main reasons for using whey protein is because it contains a wide variety of amino acids that aren't found in plant-based protein supplements, like those made from pea or hemp proteins. The fact is, no plant-based protein is a complete protein, and they don't naturally contain all the amino acids needed for muscle growth and repair.
Whey protein also contains a large amount of essential amino acids, including leucine. Leucine is required to "switch on" muscle growth on a cellular level.
Types of Whey Protein
Generally speaking, there are three basic types of whey protein:
Whey protein concentrate (WPC): Just like you would imagine, this type of protein is concentrated. WPC provides more nutritional content than other types of whey due to the way it's processed.
Whey protein isolate: This form of protein is digested faster than WPC, and it's typically stripped of most of its carbs and fats. This makes whey protein isolate suitable for those who are lactose intolerant, but because most of the fat has been removed, it's also missing a lot of fat-soluble vitamins.
Whey protein hydrolysate: Hydrolysate whey protein goes through a process where peptides (the building blocks of protein) get broken down into a quicker and more easily digestible form. Because of the way it's processed, this type of protein can have a bitter taste.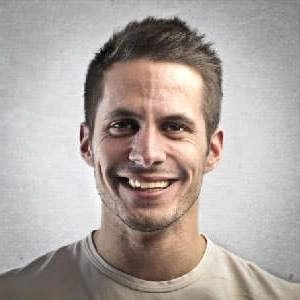 Mark McIntyre is the founder of MaleHealthReview.com and acts as it's chief contributor. He is a fitness trainer and avid mountain biker who also enjoys camping, hiking and fishing. Besides managing Male Health Review, Mark is also a guest columnist for several blogs related to men's health. More about this author…