Last Updated on August 20, 2023 by Mark McIntyre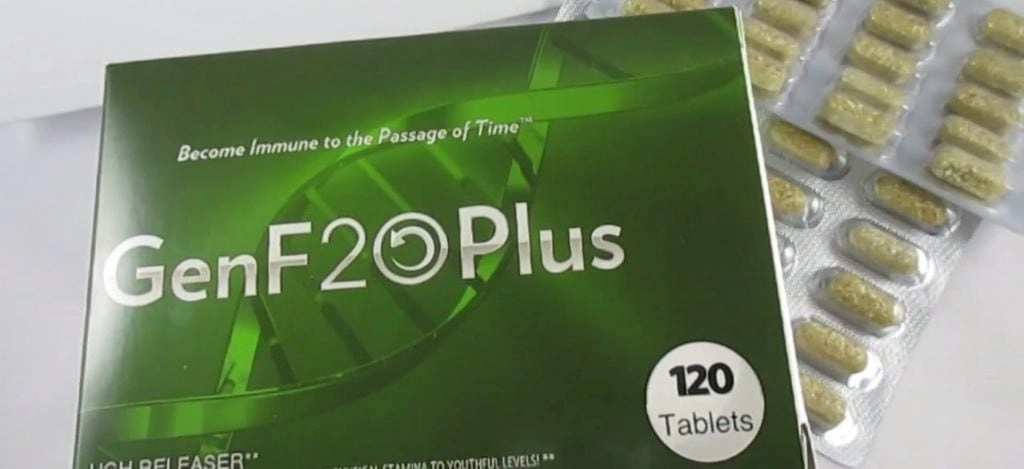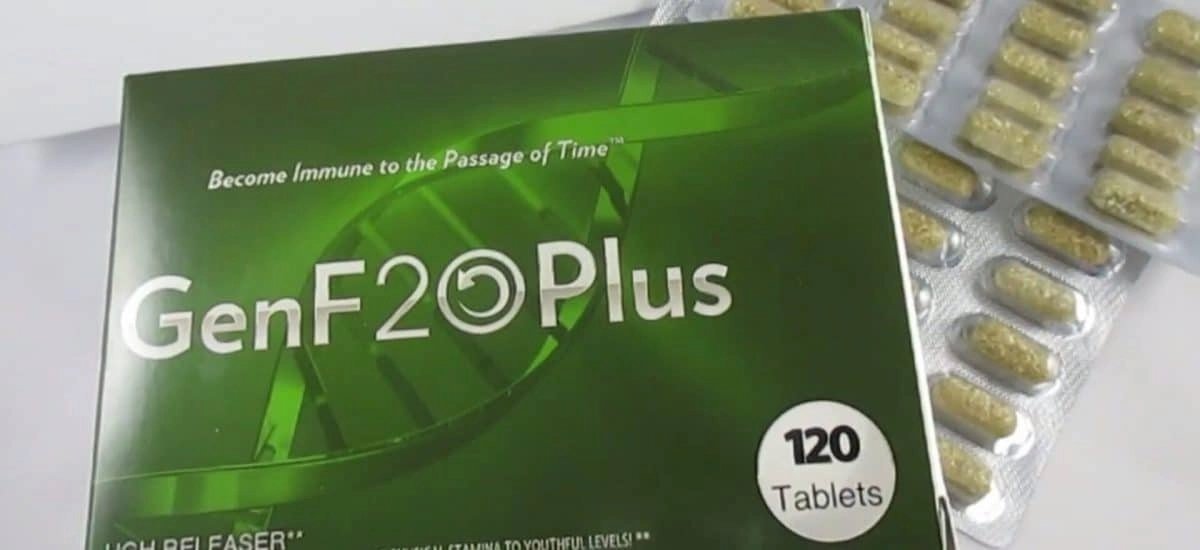 GenF20 Plus – HGH Supplement System
It's pretty obvious that more and more people are starting to take their health into their own hands, opting to buy natural, less-expensive alternatives to prescription meds. As a result, the health supplement industry is booming, and anti-aging products like HGH supplements are certainly no exception.
You may have heard of quite a few of these supplements, some of which actually provide good results. But there's one brand in particular that's become enormously popular, known as GenF20 Plus (GenF20Plus.com) made by Leading Edge Health.
What is GenF20 Plus?
Simply put, GenF20 Plus is a supplement stack designed to naturally raise your body's own production of human growth hormone, or HGH. A new-and-improved version of the already popular GenF20, it's a two-part system consisting of both tablets and an oral spray which combine to form a secretagogue that stimulates the pituitary gland to produce more of it's own HGH.
Ingredients
A supplement will only be as effective as it's ingredients, and GenF20 Plus is packed with those. The pills and spray contain a total of 20 ingredients between them, all shown to produce results associated with elevated HGH levels.
Here's a breakdown of the ingredients in GenF20 pills and spray.
GenF20 Plus Pills
It's hard to argue that the list of GenF20 Plus ingredients is impressive. The tablets alone contain 16 different components, and have enteric coating for maximum absorption. Each full dose of GenF20 Plus pills contains the following:
L-Arginine  Studies show that arginine supplementation can potentially triple your HGH levels, and help improve exercise performance. Also accelerates fat loss, builds muscle, improves immunity, protects against cancer, promotes healing, boosts male fertility, and more.
L-Glutamine  Important for metabolism, maintaining muscle and cell growth, and increases energy and alertness. Also boosts immunity, lowers cholesterol and blood pressure, protects against arthritis, diabetes, heart disease, and more!
L-Tyrosine  Used by the thyroid gland to product Thyroxine, an important hormone shown to help reduce fatigue and depression, and also to regulate growth and metabolism.
L-Glycine  Encourages the pituitary gland to secrete HGH. L-glycine also reduces stress and promotes prostate health.
L-Lysine  Boosts immunity and sexual function. It's been shown to increase arginine's effectiveness by ten times compared to just taking arginine alone.
Phosphatidyl Choline  Works as an excellent emulsifier, aiding with the absorption of the other ingredients. Also emulsifies and breaks down fat deposits in the body, helping prevent gallstones, atherosclerosis, heart disease, liver problems, depression, memory loss, and neurological disorders.
Astragalus Root Extract  Long used to strengthen immunity and help heal wounds, it also enhances metabolism and digestion, improves lung function, supports the adrenal glands and gastrointestinal tract, and reduces fatigue.
Deer Antler Velvet  A natural source of chondroitin, collagen, and glucosamine, which strengthens cartilage tissue. Also contains hormones, including IGF-1 (Insulin-like growth factor I) – a hormone that's produced in the liver in response to growth hormone stimulation.
GABA   Gamma-Aminobutryic Acid is a potent neurotransmitter amino acid, providing a number of beneficial effects to the nervous system. GABA also stimulates the secretion of HGH.
Bovine Colostrum  A type of milk nearly identical to human colostrum that boosts immunity, accelerates healing, increases bone and lean muscle mass, and slows aging. Also contains IGF-1 (insulin like growth factor), which is a precursor to HGH, and thought to be responsible for HGH's anti-aging benefits.
L-Valine  A branched-chain amino acid needed for the growth and repair of tissue, muscle metabolism, and maintaining the body's nitrogen balance.
Anterior Pituitary Powder  Stimulates more effective functioning of the pituitary gland leading to an increase in the production of HGH. Also thought to help improve many age-related conditions, such as decreased muscle tone.
GTF Chromium  (0.1 mg)  Aids with maintaining glucose levels by enhancing insulin activity, and lower blood glucose levels can help increase the production of HGH. Also helps to boost metabolism, increase energy, and increase fat loss.
L-Ornithine (25mg)  Research indicate that Ornithine is nearly twice as powerful as arginine (which you'll recall can as much as triple HGH levels), even more so when combined with the glutamine, arginine, and lysine already added.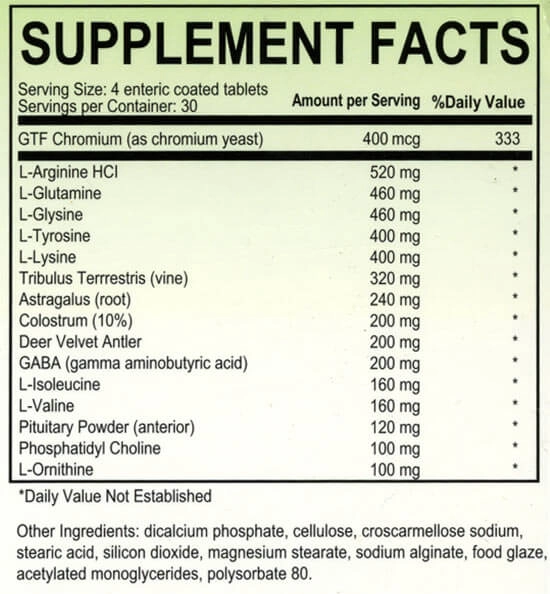 GenF20 Plus Spray
The GenF20 Plus oral spray contains many of the same ingredients that the pills do, plus a few more, but in a more easily absorbed form. However, the primary difference between the oral spray vs. the tablets is the ingredient Alpha GPC.
Alpha GPC not only helps increase the production of HGH, it improves the effects of other hormones produced by the pituitary gland. It also boosts workout performance, decreases fat in the liver, and increases the cognitive benefits of phosphatidyl choline.
Other ingredients found in the GenF20 Plus liquid spray are:
GABA (Gamma Amino Butyric Acid)
Mucuna Pruriens Seed
L-Lysine
L-Glutamine
L-Arginine
L-Tyrosine
L-Valine
L-Isoeucine
Ornithine Alpha Ketoglutarate
Glycine
Moomiyo Extract
How to Use
Directions for taking GenF20 Plus are pretty much straight-forward: take two tablets one hour before lunch and two tablets one hour before dinner, for a total of four tablets daily. Therefore, a one-month supply will contain 120 tablets.
You should also be taking 3 sprays orally twice a day, one hour before meals, and holding it under the tongue for 30 seconds before swallowing. The result of combing these two delivery methods is a more balanced and effective overall treatment for elevating your HGH levels.
Side Effects
To date, there are no known side effects from using either the GenF20 Plus tablets or the spray. There are also no known drug interactions associated with taking GenF20 Plus, but to be on the safe side you should always talk to your doctor if you have any questions.
GenF20 Plus User Reviews
Here are a few handwritten reviews culled from customer survey questionnaires taken directly from the GenF20 website:
Additional customer reviews can be found here.
Of course, there could be plenty of negative questionnaire comments that aren't made public, but as far as I can tell there doesn't seem to be a lot of unsatisfied users out there – just the opposite, in fact.
Manufacturer Video
Who Should Use GenF20 Plus?
If you're a man or woman approaching your 40's or beyond, you are an ideal candidate for using GenF20 Plus.Most people will find that it can produce noticeable results in any number of areas, including mood, sex drive, energy levels, sleep quality, and skin rejuvenation.
However, for some people this product may not be ideal. If you're a bodybuilder or athlete, or otherwise feel that your HGH levels might be unusually low for your age-range, I would recommend HyperGH 14x (also made by Leading Edge Health), which is a much stronger formula compared to GenF20.
Clinical Evidence
Customer reviews and anecdotal evidence are great, but I'm always more impressed whenever there's hard scientific data to look at. One such study, conducted by Vedic Life Sciences Pvt. Ltd, revealed some pretty interesting results.
The study (documented in a 63-page report which you can view here) was conducted on normal to overweight subjects between the ages of 35-65 over a three-month period. The goal of the study was to  evaluate  what effect  GenF20 Plus had on improving  IGF-1 levels (Insulin-like Growth Factor-1, the primary mediator of HGH's effects), since stimulating the  pituitary  gland  to  secrete HGH should also stimulate the liver to produce IGF-1.
The results showed that the "active" group (those not receiving a placebo) had significantly raised levels of IGF-1. The researchers concluded that "the significant increase in serum IGF-1 levels in the subgroup age 40 in the active group is attributable to consumption of GenF20 Plus."
They also concluded that the benefits they observed would likely improve over time the longer that GenF20 Plus is used.
Where to Buy
GenF20 Plus is available directly from the GenF20Plus.com. One tip though: you'll save a lot more money by purchasing one of the package deals.
There's also options there for ordering by phone, mail, or fax if you'd prefer. Plus – they also offer a two-month money-back guarantee, so if you try it for 60 days and decide you don't like it, you only have to send in your empty containers and they'll refund your money.
Some people don't put a lot of faith in these so-called guarantees, and too many companies aren't trustworthy, but as far as I know Leading Edge Health does honor all product refunds submitted to them.
Conclusion – Does GenF20 Plus Work?
So does GenF20 Plus really work? In my opinion, it's clearly demonstrated to be both an effective and safe way to enjoy the benefits associated with elevated HGH levels, and I think a lot of people could drastically improve their quality of life by supplementing with it.
Not only is there clinical evidence to support the claims,  it's backed with a two-month money-back guarantee, so you can't go wrong.
For price and additional info, visit the GenF20 website.
If you've used GenF20 Plus I'd love to hear about your own experiences. Feel free to leave a review or comment below.
---
See Also: The Best HGH Supplements Ratings Guide – Natural Hormone Replacement for Men
---
Overall Rating
GenF20 Plus
Libido Enhancement
9.3/10
Improved Sleep Quality
9.5/10
Increased Metabolism
9.0/10
Pros
Improves energy levels.
Boosts metabolic function.
Increases libido.
No negative side-effects.
60-day money-back guarantee.
Cons
Only available for online purchase.
May not be aggressive enough for bodybuilders.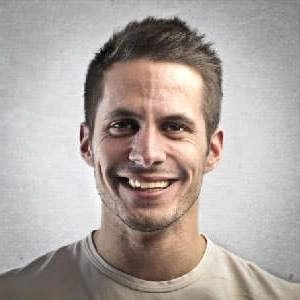 Mark McIntyre is the founder of MaleHealthReview.com and acts as it's chief contributor. He is a fitness trainer and avid mountain biker who also enjoys camping, hiking and fishing. Besides managing Male Health Review, Mark is also a guest columnist for several blogs related to men's health. More about this author…