Last Updated: September 16, 2023
You may have heard about Ben "The Pak-Man" Pakulski,  he's a professional IFBB bodybuilder with an impressive background: winner of the 2008 Mr. Canada competition, two-time 2nd place winner in the IFBB that same year, 2nd place winner in the 2013 Arnold Classic and finishing at 11th place in his first Mr. Olympia contest.
Not only that, he graduated with honors from the University of Western Ontario with a B.S. in Kinesiology and regularly teaches seminars and works as a bodybuilding trainer. He's also the creator of a popular and extremely successful muscle-building program called Mi40, which has helped countless people with reaching a high level of  muscle fitness.
And now, by adding to the proven approach of the Mi40 system with some new and clinically proven techniques, Mi40-XTREME 2.0 is born – easily the most effective muscle building program available today.
What is the Mi40X Program?
MI40X (Mi40x.com) is a completely unique bodybuilding program that is vastly different from any other methods out there. It's based on the concept of CEP training (Cell Expansion Protocol) using a technique known as interset stretching.
Amazingly, when followed as instructed this program has demonstrated a 200% increase in muscle mass.
These same results were carefully observed and verified in a clinical study conducted by the Dept. of Health Sciences and Human Performance at the University of Tampa, who concluded: "The MI40X program decreases fat-mass and increases lean body mass, skeletal muscle hypertrophy, power and strength, compared to traditional, volume-matched training protocols".
What's Included
This program is loaded with tons of detailed information in ebook manuals, worksheets and videos, really leaving no stone unturned and addresses virtually every question or concern you might have.
Here is a quick list of everything you'll have access to once inside the member's area:
7 Day Detox Diet – a 14 page ebook outlining a detoxification plan for the first week prior to starting the program, allowing for optimal nutritional absorption by the body.
7 Day Primer Phase – 16-page ebook with instructions for conditioning your body before beginning the main program.
CEP Practical Application Guide – 12-page ebook where, in plain English, Ben explains the core principals of the program and why it works so well at building muscle mass so quickly.
CEP Training Blueprint – A 24-page ebook that covers the nuts and bolts of the program, detailing what to do and (just as importantly) what not to do in order to quickly develop the most muscle.
Exercise Execution Guide – An extensive 118-page ebook covering detailed explanation for every exercise in the program, leaving you in no doubt as to how to properly execute each one.
Workout Sheets – These exercise plans are divided into three groups, depending on your fitness level, and are ready to print out and take with you to the gym.
Nutrition Guide – 12-page ebook explains exactly what and when you should be eating for maximum gains.
Supplement Guide – 22-page ebook takes the confusion out of knowing which supplements to take and offers a variety of choices based on your specific situation.
The Science of CEP  -These web pages highlight the ideas behind CEP and discuss the clinical evidence behind the program that makes it so effective.
Training Videos – 18 high-quality, detailed instructional videos covering the CEP protocol and workout exercises.
FAQ Guide – A helpful 9-page resource of detailed answers to the most commonly asked questions by those who've followed the program.
Bonuses and Rewards -Includes extra videos: The 6 Essentials of Exercise, Hardcore Abs (with ebook) and Extreme Suspension Revolution.
As you can see, there's a whole hell of a lot of material included with this program. The good thing is that it's structured and presented in an easy to digest format so you won't feel overwhelmed once you dive into it.
Member's Area Walkthrough
Here's a look at the type of quality training you'll be getting with the Mi40X CEP program:
See Also: The Original Mi40 Training Program
Customer Reviews
Needless to say, when you've got an instructor with the qualifications that Ben Pakulski has, the positive results won't be far behind. It's not too difficult to find success stories associated with this program, from every age group and walk of life:
"I can't thank Ben enough for creating this as it has allowed me to totally transform my physique and get me noticed when I walk around the gym. Now it's everywhere I have people asking me how on earth I did this…MI40X baby!"

– Jason Gibson
"I had no idea just how my body was about to transform throughout MI40X. Utilizing intra-set stretching, CS-6 sets, and the unique rep tempos positioned my body for optimum muscle growth. The workouts were unbelievably challenging as well as rewarding. Throughout the 6 weeks my 10 rep squat weight went from 185lbs to 245lbs, gained 7lbs, but most importantly my mind muscle connection increased 10 fold."

– Jonathan Klinvex
"I'm very pleased with my results. I know I could've cranked up my intensity in the first half of the program. I really wanted improve my mind/muscle connection, which I did. This proved to be more a mental challenge for me even more than a physical one. I had a lot of things that could've derailed my efforts, somehow I managed through it to finish. I'm my heaviest I've ever been at 182lbs. I gained 14lbs overall!"

– Adam Schmidt
"I am proud and thrilled to say that I am proof that this program works. This program is so clear-cut and full of in-depth knowledge that I feel as if I know Ben personally. If you are looking to completely change your way of training for the better and take your physique to an all new level, MI40X will provide nothing less than the best."

– Brian Zionskowski
Results – Before & After
It's one thing to read glowing reviews, but at the end of the day it's seeing that's believing, and these pictures clearly speak for themselves: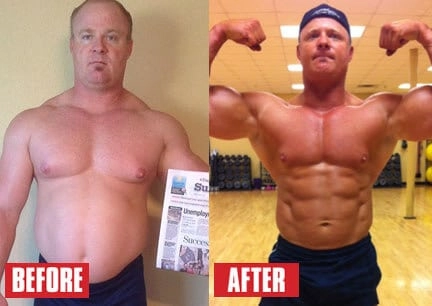 I can honestly say that these aren't just exceptional results, these are typical results, and if you stick to the program exactly as it's laid out, you too will experience similar payoffs.
Where to Buy
The entire Mi40X program is accessible inside the private membership area, so you can only purchase it through the official website. Once your purchase is complete, you'll have access to all of the manuals, worksheets and videos and will be able to download them to your computer.
Conclusion – Does it Work?
No matter if you work out already but you're stuck in a rut, or if you're a complete beginner, the Mi40X program will revolutionize the way you approach your workouts. Not everyone has the luxury of hiring a personal trainer (something I know full well), but this is the next best thing.
In many ways you'll actually be ahead of the game by having a pro like Ben Pakulski walk you through his own cutting edge system proven to produce competition-worthy physiques.
But don't half-ass it, though. You have to be willing to commit yourself and put in the hard work to get the results you're looking for. If you truly dedicate yourself to this program it will be virtually impossible to not achieve the type of amazing gains you've always dreamed of.
For price and more info check out the Mi40X website.
Overall Rating
---
Have you tried the Mi40X program? I'd love to know about your own personal experiences. Feel free to leave a review or comment below.
Mi40X Xtreme 2.0
Quality of Training
9.5/10
Comprehensiveness of Course Material
9.3/10
Ease of Implementing Routines
9.5/10
Effectiveness For Building Muscle
9.8/10
Pros
Perfect for beginners, intermediate, or advanced bodybuilders.
High quality, detailed workout instruction videos.
Very specific diet and workout routine.
Excellent value for the training and information included.
60-day money-back guarantee.
Cons
Not a cake-walk. Requires a solid 8-week commitment for results.
Only available as downloadable files in the member's area.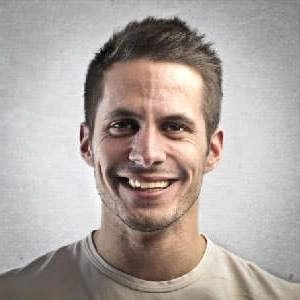 Mark McIntyre is the founder of MaleHealthReview.com and acts as it's chief contributor. He is a fitness trainer and avid mountain biker who also enjoys camping, hiking and fishing. Besides managing Male Health Review, Mark is also a guest columnist for several blogs related to men's health. More about this author…