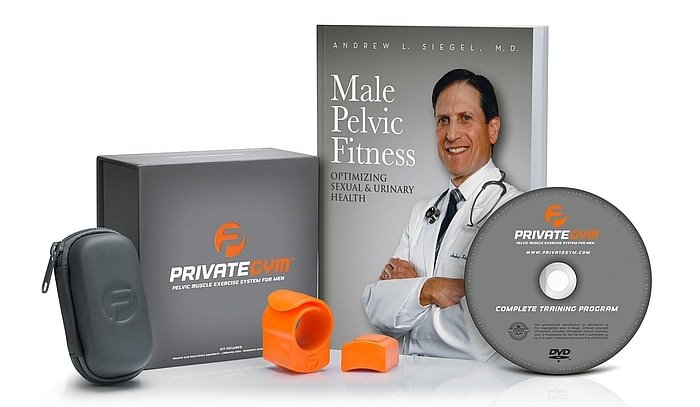 Introduction
For many men, the aging process can be quite a blow to self-confidence. I mean, all the physical changes can be a tough pill to swallow: I'm talking about the balding and graying, the lack of energy and stamina, and – worst of all – the changes to endurance and performance in the bedroom.
Maybe you've had nights where you weren't able to perform like you wanted to. You might have blamed it on being too tired or having too many drinks, but the reality is you're getting older and these things just happen now.
The saddest part, though, is that you're still that same fun-loving guy you were in your twenties, it's just that your body isn't cooperating as much anymore. These issues can be challenging to deal with, especially if there's no easy solution in sight.
Some guys are uncomfortable with the idea of seeking help, allowing their sex lives and romantic relationships to suffer unnecessarily. I'm not one of them, so when I got several requests to review the Private Gym, I knew I needed to give it a shot.
I've tried a lot of supplements with all kinds of results, but the Private Gym isn't a pill at all – it's an exercise regimen. I'm already a big fan of kegels and other penis exercises, so I was very interested to try it out. After 30 days of the Basic Training program, this is what I learned.
What Is Private Gym?
Private Gym is a series of unique exercise programs for men that target the pelvic muscles. Marketed as a gym trainer for your pelvis, these programs strengthen the muscles that control the penis, prostate, and bladder.
The programs are available in a variety of formats, including the four-week basic program, the Complete Training program, which combines the Basic Training program with a resistance training course, and the PelvicRx program for prostate health, ideal for men Recovering from prostate surgery or prostatectomy, or who experience incontinence or bowel control issues.
Each program comes with a DVD full of professionally made exercise videos, plus online access to the entire program, a step-by-step resource guide, and access to a mobile app. More advanced courses are used with additional equipment, like resistance rings with magnetic weights, or the Viberect device.
You even have the option to choose between male and female trainers for the most pleasing, comfortable experience possible.
Who Is it For?
Basically, the Private Gym programs are for any man who wants to improve the quality of his erection, increase bladder control, or improve recovery after prostate surgery. In fact, Over 20% of men under 40 and 50% of men over 40 experience some form of erectile dysfunction, and in many cases this can be cured or improved through the strengthening of the pelvic muscles.
While pills and pumps can treat the physical symptoms, the root of many challenges lie within the muscle itself – and that can't be addressed in a doctor's office. Private Gym targets these muscles directly, providing a new source of strength for users from all walks of life.
And it's not just for older guys. The Private Gym can be preventative as well as curative, making these programs ideal for younger men who want to enhance their current performance, and help prevent future problems with performance at the same time.
How Does It Work?
Private Gym works by targeting the muscles within the pelvic region. You may have heard talk about pelvic muscles in relation to women and childbirth, but guys have muscles there, too.
Pelvic muscles are not generally strong in the first place and are likely to get even weaker over time, especially as middle age sets in. These weakened muscles can cause all kinds of problems, like soft erections, premature ejaculation, incontinence, prostate issues, and full erectile dysfunction.
The concepts used in the Private Gym programs are based on decades worth of research and dozens of scientific studies. The science used by doctors and scientists to create Private Gym is rooted in Dr. Arnold Kegel's groundbreaking studies from the 1940s.
The benefits of pelvic muscle exercises have been published extensively, including in the New York Times and countless medical journals.
I have to say, watching a DVD aimed at pelvic muscle enhancement was a little weird the first time I tried it, but it's quick and easy to do, and soon became the new normal. When I was away from home, I could access videos on my phone or computer, which made it really easy to stay on track when I had to travel for business.
The Benefits of the Private Gym Programs
For anyone wanting to take a more natural approach to pelvic health without the use of drugs, chemicals or supplements, the Private Gym programs provide all kinds of advantages, both sexual and non-sexual.
In clinical trials, men who used the Basic Training program for just 10 minutes a day, three days a week, noticed some pretty amazing progress. Those men who were tested gave feedback on their results, which gives us the following statistics:
75% of those studied saw improved erectile rigidity and strength, and 25% saw greatly improved results.
90% experienced heightened orgasm intensity.
40% experienced improved ejaculatory control, with 25% seeing greatly improved results.
75% saw improved ejaculatory force, with 12% seeing great improvements.
90% experienced improved sexual performance and confidence, while 50% saw greatly improved results.
60% experienced increased levels of sexual pleasure
While improved sexual performance and pleasure is a key part of the whole Private Gym process, that's not the only benefit of having stronger pelvic muscles. In fact, it turns out that Private Gym can offer many other advantages, including:
Reversing and actively preventing erectile dysfunction
Promoting better urinary health, and reducing issues like dribbling, incontinence, or overactive bladder
Improving prostate health, including increased blood flow
Increased bowel control
Addresses the painful side effects of tension
Easing pain of saddle sports trauma
With so many benefits, it's kind of hard to find a reason not to try a Private Gym program. It's quick, easy, and discreet, offering a way to improve health and performance from the privacy of home.
And no doctor's appointments are needed, either, offering a realistic alternative for men who are uncomfortable speaking about their performance problems. If you're on erectile dysfunction medication already, Private Gym is completely safe to use with no side effects or health threats. If anything, these programs can even reduce the need for additional medication in the future.
Plus, the company offers a 100% money back guarantee on all the courses, making any purchase a risk-free investment. All the programs are FDA registered, which is very rare when it comes to most male enhancement products, so you can be assured that the instruction is valid and effective when used according to directions.
User Reviews & Testimonials
Manufacturer Video
Where to Buy
All the products and programs are available directly from Amazon.com, where Prime members get free two-day shipping. I received the DVD and training guide in the mail, and was able to access the app and training videos online after purchase as well.
The Bottom Line
Pelvic exercises seem a little too good to be true, but the science doesn't lie, and neither do I. Private Gym is a winner, and I'm extremely impressed with the results I've seen over the course of the last four weeks.
Getting started may seem a bit odd – especially if you've never done kegel exercises, or any other workout involving your manhood – but the process is easy and pain-free. It only took a few days for the videos to become routine, and I found the video trainer to be very encouraging.
I tried the Basic Training program as an intro to the Private Gym world and I can tell it worked wonders for me. I'm sure those men who actually commit to giving it a try will feel harder and last longer in the bedroom, and not have to worry much about being able to perform anymore
And if you start experiencing further challenges as you age, or just want to take your performance to the next level, you should definitely try the weight resistance workout to further improve muscle control.
Private Gym can build up your muscles and give you much-needed confidence, both in bed and in many other areas of your life. In the end, you don't really need pills or prescriptions to improve strength and endurance: Private Gym can pretty much do it all.
For price and more info, check out the Amazon.com Private Gym product page.
Have you tried any of the Private Gym programs? I'd love to know about your own personal experiences. Feel free to leave a review or comment below.
Overall Rating
---
Private Gym
Improvement in Erection Quality
9.5/10
Increase in Staying Power
9.0/10
Overall Effectiveness
9.5/10
Pros
Exercises are easy and convenient.
Improves sexual performance and pleasure.
Prevents and reverses ED and premature ejaculation.
Increases prostate health.
Cons
Must be used consistently over time to see results.