Last Updated on September 15, 2023 by Mark McIntyre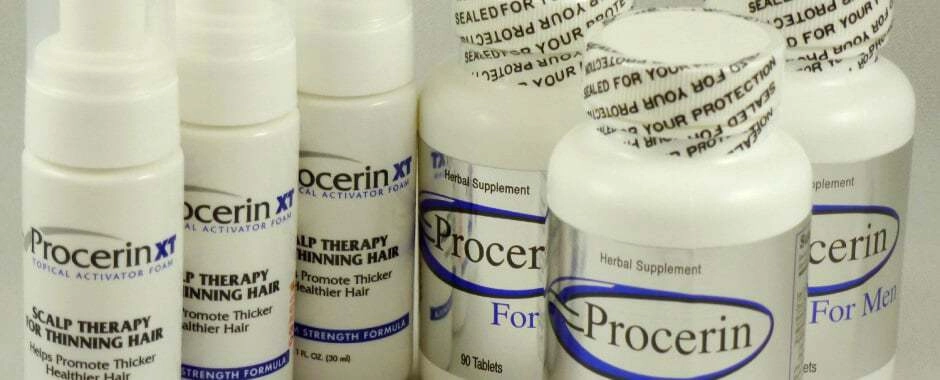 Pulling Your Hair Out Over Male Pattern Baldness?
It's a sad fact that one out of three men will experience hair loss by the age of thirty.
It's an even sadder fact that there isn't an outright antidote for it.
How crazy is it that we humans have put men on the moon but we still can't keep the hair on our heads?
You may or may not know already that the main cause of male baldness is how hair follicles react to the hormone Dihydrotestosterone (DHT).
In some men DHT causes the follicles to shrink and eventually disappear, resulting in thinning hair and eventual baldness.
Even though a permanent cure hasn't been developed yet, there are options available in the meantime, some good and some bad.
These include such things as surgery, toupees and prescription drugs, but there's one product that's made from all-natural ingredients that has gotten a lot of attention lately: Procerin.
Procerin (Procerin.com) is an all natural alternative to drug-based hair loss treatments.
Developed by Speedwinds Nutrition, Inc., it is specifically formulated with key herbal components to block the production of DHT, stop hair loss and regrow hair.
It doesn't require a prescription, is drug-free and safe to use.
The treatment consists of taking tablets and applying a foam twice daily with initial results seen in as little as two weeks.
This review of Procerin will cover the following topics:
Ingredients
Both the Procerin tablets and foam contain a wide range of natural components that promote hair growth and follicle nutrition, some of which have been used for many years.
These include the following:
Saw Palmetto
Iodine
Gotu Kola
Magnesium
Grape Seed Extract
Biotin
Niacin
Vitamin B-12
Procerin also contains Siberian ginseng, black cohosh, uva ursi, wild yam, pumpkin seed and pyroxidine.
These ingredients naturally combine to reduce the production of DHT without interfering with testosterone, which can happen with finasteride-based drugs like Propecia.
Doctor Approved and Clinically Tested
Not only has Procerin been shown to work in clinical studies, it's also been affirmed by Doctor-Certified.com, where it was independently doctor-reviewed and verified for it's scientific health-based claims.
One clinical IRB-approved research study (conducted by Detuag Testing, Inc and headed by Dr. Peter Helton) followed 32  volunteer male subjects over a 90 day period.
The subjects were given both tablets and foam treatments to use and were photographed and questioned before and after the study.
As you'll see, the study's conclusions turned out to be quite convincing.
Procerin Results – Before and After
The results of the three month clinical trials submitted to the FDA provide strong evidence of Procerin's effectiveness and safety.
Before the study the volunteers had all experienced some degree of hair loss, but afterwards almost every one of them had shown positive results from using Procerin.
As a matter of fact, 93.75% of those questioned said that their hair loss had lessened or reversed and would recommend Procerin to friends and family.
Here are some photos and statistics from the three month study: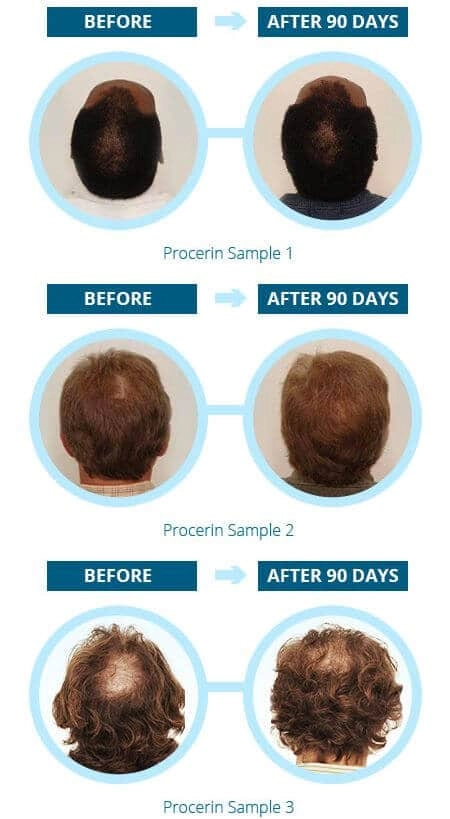 The chart below shows the level of user satisfaction among volunteers after the 90 day research period:
This chart shows the total overall satisfaction of research subjects regarding improvement of their thinning hair:
(Complete results of this study can be viewed here).
Side Effects
One of the great features of Procerin is that it's made up of all-natural ingredients and there have been no side effects reported by it's customers, making it a much safer alternative to drugs like Propecia, which has been shown to cause issues like erectile dysfunction.
Procerin Videos
Where to Buy
Your safest bet when buying Procerin is straight from the official site.
The makers of Procerin, Speedwinds Nutrition, Inc., have an outstanding A+ rating with the Better Business Bureau and has been independently reviewed and verified by Doctor-Certified.com, so you can rest assured that the company is legit and have proven themselves to be honest and reputable.
Combine that with the generous 90-day money back guarantee and it's pretty evident that you really have nothing to lose by giving it a shot.
Conclusion – Does Procerin Work?
Personally, when I see evidence like that in the clinical trial results earlier, backed up by an independent third party, it's hard to not be convinced.
Not only has it eliminated the early stages of my own thinning hair, I have both a friend and a family member who have each used Procerin and it definitely helped them as well.
Based on what I've experienced, by using the tablets and foam together you'll achieve the best results since the source of your hair loss is being targeted both internally and externally, and you'll almost certainly see some kind of positive results.
You can find price and more info by checking out the Procerin website.
Have you tried out Procerin? I'd love to hear about your own personal experiences. Feel free to leave a review or comment below.
Overall Rating
Procerin
Hair Loss Prevention
9.5/10
Overall Effectiveness
9.3/10
Pros
Delivers exceptional results for both stopping and slowing hair loss.
High success rate for most men.
All-natural ingredients.
90-day money-back guarantee.
Doctor-endorsed and approved.
Cons
Requires continued use to maintain results.
Only available to purchase online.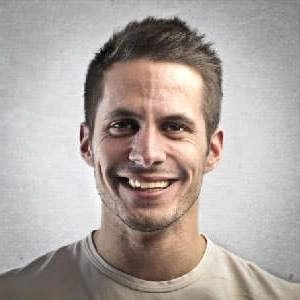 Mark McIntyre is the founder of MaleHealthReview.com and acts as it's chief contributor. He is a fitness trainer and avid mountain biker who also enjoys camping, hiking and fishing. Besides managing Male Health Review, Mark is also a guest columnist for several blogs related to men's health. More about this author…