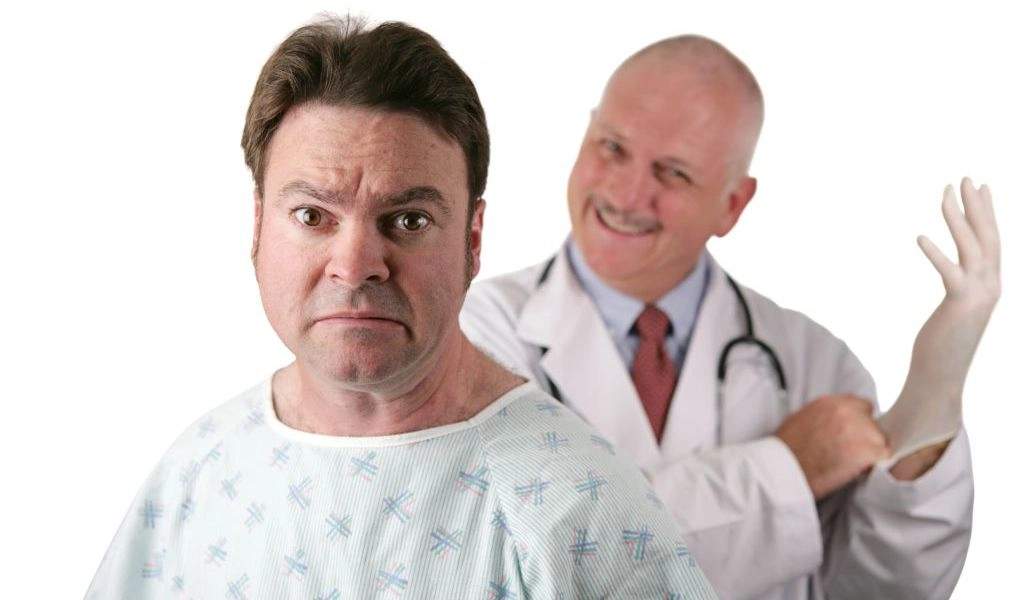 Prostate Supplements – A Natural Alternative to Prescriptions
Having to deal with prostate issues is no picnic. This is  especially true when considering how most men end up taking expensive prescription drugs (usually with unwanted side-effects), or undergo aggressive surgery in order to alleviate their condition.
Unfortunately, however, these "solutions" typically only treat the symptoms rather than the underlying causes.
The good news is that there are natural herbal prostate supplements that you can take to help ease or eliminate many of the problems associated with these conditions, and even prevent them from occurring in the first place. Now more than ever, men are using herbal alternatives to prescription drugs to combat prostate problems.
In fact, it's been estimated that as many as 1 out of 3 men who have prostate cancer take some form of over-the-counter supplement besides their doctor-prescribed medications. Research has shown that many of these natural prostate supplements may indeed be useful in the treatment of BPH and prostate cancer, and can provide ongoing support of the prostate gland itself.
Are Prostate Supplements Safe?
Most prostate supplements are generally safe to take. However, you should always check with your doctor first before taking any kind of supplement, as there are potential negative interactions that could occur.
For example, certain supplements may interact with one another, or with medications you're currently taking. These products can actually increase the effectiveness of some meds, but could also completely neutralize the effects of others, or even cause adverse reactions.
St. John's wort, for instance, is known to interact with many drugs by interfering with a liver enzyme that metabolizes medicines. Also, saw palmeto (taken to treat BPH) and melatonin (which may slow the growth of prostate cancer) both can increase the likelihood of excessive bleeding if taken with aspirin, ibuprofen, or anticoagulant and antiplatelet drugs.
Best Prostate Supplements of 2023
There's no reason to take prostate issues lying down. By having a proactive approach and utilizing the right supplementation, you can alleviate and even reverse many of the problems associated with aging and the prostate gland.
Here is our list of the top 3 best natural prostate supplements:
VigRX Prostate Support

Supports Prostate Health
Helps Shrink An Enlarged Prostate
Improves Urine Flow and Helps Empty the Bladder
Promotes A Better Sex Life
Prostate Plus


Promotes a Healthy Prostate Gland
Improves Urinary Flow
Supports Overall Urinary Health
Reduces Frequency of Trips to the Bathroom
Super Beta Prostate P3 Advanced
Supports Healthy Prostate Function
Improves Urine Flow
Decreases Nighttime Bathroom Visits
Improves Emptying of the Bladder
Product Details
---
VigRX Prostate Support
VigRX Prostate Support is a supplement designed to discourage prostate enlargement and the symptoms linked to it. Not only does this supplement improve the health of your prostate, it can give your sex drive a boost, too.
Created by the makers of the popular male enhancement supplement VigRX Plus, VigRX Prostate Support is what you might call the ultimate male wellness combo, one that improves your overall quality of life. Designed with an all-natural formula that aims to promote prostate health, this supplement consists of a nice balance of ingredients that can decrease the symptoms that stem from poor prostate health.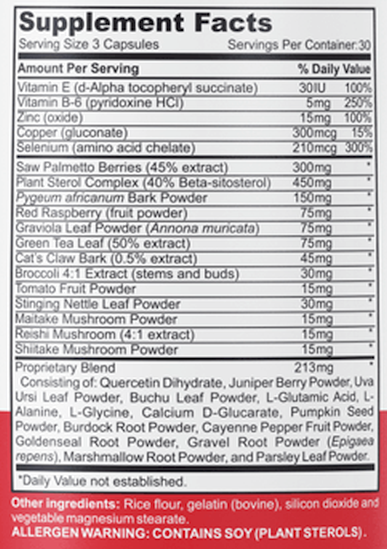 While this supplement doesn't have quite the wide range of ingredients that Prostate Plus does, and not quite as much plant sterols and lycopene as Super Beta Prostate, VigRX Prostate Support does have the best overall ratio of ingredients between the two. This formula has the best balance of potency versus variety of ingredients compared to the other two.
VigRX Prostate Support comes with these benefits:
VigRX Prostate Support Highlights:
Supports Prostate Health
Helps Shrink An Enlarged Prostate
Improves Urine Flow and Helps Empty the Bladder
Promotes A Better Sex Life
Bottom Line: If you're looking for an effective over-the-counter prostate supplement, I highly recommend VigRX Prostate Support from Leading Edge Health. 
See Also: My Full VigRX Prostate Support Review
Get The Best Price For VigRX Prostate Support
---
Prostate Plus
Prostate Plus is a high-quality prostate supplement that is noted for its extensive list of ingredients. If there's an ingredient known to be beneficial to prostate or urinary health, chances are it's in this supplement.
Boasting 30 active ingredients in just one formula, this supplement has the most exhaustive list of ingredients of just about any prostate supplement I've reviewed. 
However, while a formula as extensive as this one is definitely a major plus, in order to cram this many components into one product there has to be a trade-off – and that trade-off is the potency of each ingredient. Due to the sheer number of ingredients included, there is only so much room for each.
For example, Where VigRX Prostate Support has 450 mg of plant sterols, and Super Beta Prostate P3 Advanced has 600 mg, Prostate Plus has just 50. However, the large number of ingredients included makes up for this disparity by creating a synergistic effect that, when combined, create a product that is greater than the sum of its parts.
Prostate Plus offers the following benefits:
Prostate Plus Highlights:
Promotes a Healthy Prostate Gland
Improves Urinary Flow
Supports Overall Urinary Health
Reduces Frequency of Trips to the Bathroom
Bottom Line: For those of you who want the most complete and comprehensive formula in a prostate supplement, Prostate Plus is hard to beat. With an extensive list of all-natural ingredients that promote prostate and urinary health, it's the most all-encompassing product on the list. Highly recommended.
Get the Best Price For Prostate Plus
---
Super Beta Prostate Advanced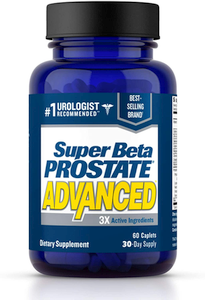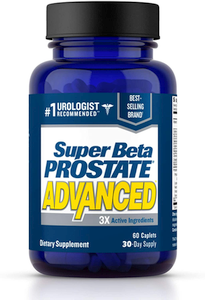 Super Beta Prostate Advanced is the new and improved version of the already popular Super Beta Prostate. Using only clinically tested ingredients in optimal amounts, you can feel confident that this product delivers real, dependable prostate support – so you can spend more time enjoying your life… instead of going to the bathroom.
You've probably seen the commercials on TV or elsewhere, and the original Super Beta Prostate formula is the best-selling prostate supplement with over 10 million bottles sold. Super Beta Prostate Advanced takes prostate health a step further with a proprietary blend of ingredients called ProstaFend.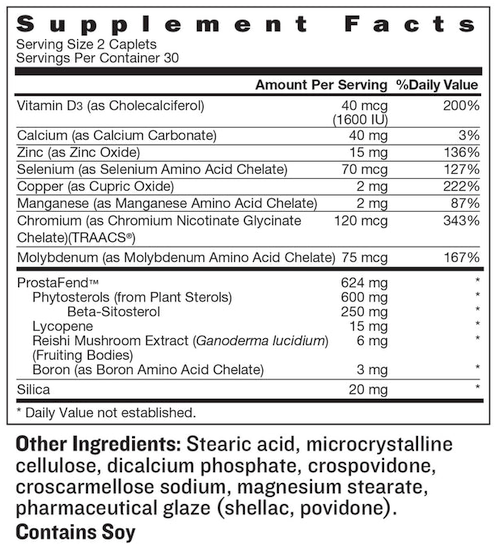 ProstaFend is composed of three potent ingredients that work together to support your prostate, each in a specific way. To start with, it includes a healthy 250 mg dose of beta-sitosterol, which helps to diminish those urges to urinate all day and night. The formula is then balanced with lycopene and reishi mushroom extract to help further promote prostate health.
While not nearly as extensive as Prostate Plus or VigRX Prostate Support, the ingredients that Super Beta Prostate Advanced does contain are solid and in highly effective amounts.
Super Beta Prostate P3 Advanced offers the following benefits:
Super Beta Prostate Advanced Highlights:
Supports Healthy Prostate Function
Improves Urine Flow
Decreases Nighttime Bathroom Visits
Improves Emptying of the Bladder
Bottom Line: While not the most comprehensive supplement on our list, it has good mix of ingredients. This new and improved formula is definitely a winner and I can highly recommend it.
See Also: Super Beta Prostate Advanced Review
Get the Best Price For Super Beta Prostate Advanced
---
Prostate Health
Prostate health is obviously something only a guy has to worry about, and as we age the odds of having complications only increase. But despite every man having one, it nevertheless remains something of a mystery to most.
Basically, the prostate gland is where seminal fluid is produced. Located between the bladder and the penis, it surrounds the urethra (the tube that carries urine out of the body).
When you ejaculate, the prostate squeezes out prostate fluid mixed with sperm cells from the testicles into the urethra, and voila! – you have a money shot (a.k.a. semen). Normally, the prostate is about the size of a walnut – but sooner or later (usually sometime around the age of 50) it'll start to get bigger.
When it starts getting too big… well, that's when the problems begin.
Common Prostate Conditions
Prostate cancer, prostatitis, and benign prostatic hyperplasia (BPH) are the three primary prostate conditions that will affect millions of men at some point in their lives.
Benign Prostatic Hyperplasia (BPH)
Of all prostate conditions, BPH is by far the most common, and will affect nearly all men over the age of 50 to some extent. BPH causes an enlargement of the prostate gland, which puts pressure on the urethra and blocks the flow of urine.
Because of this pressure, the bladder must use more force to eliminate urine, gradually becoming stronger and more sensitive, over-compensating even when only a small amount of urine is present, resulting in the frequent urge to urinate.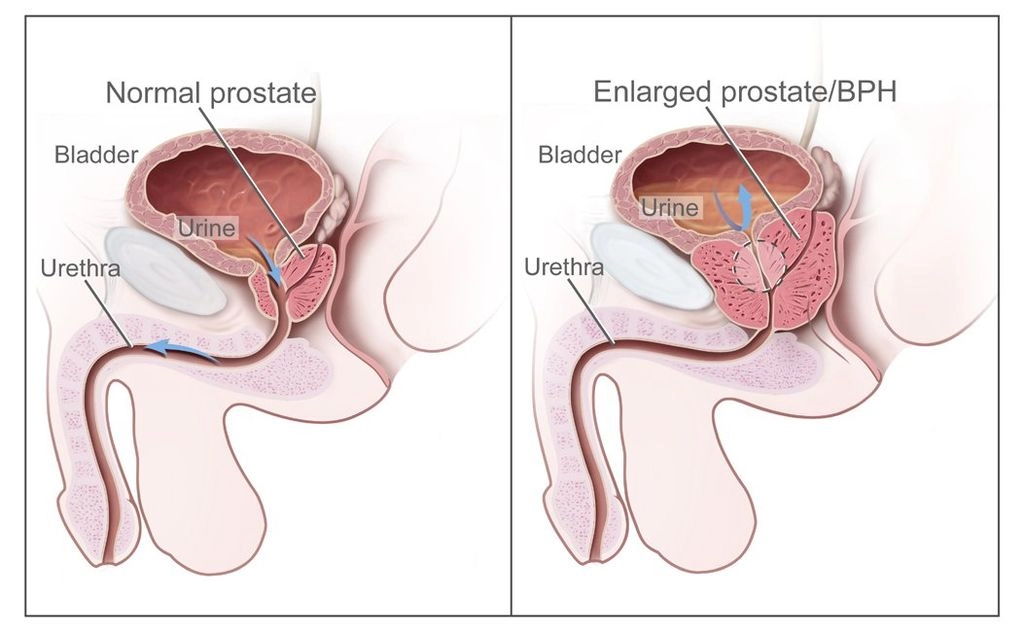 Over time, the urethra's pathway becomes too narrow for the bladder to completely empty, resulting in an increased risk of bladder infection – not to mention a whole host of annoying, inconvenient, and embarrassing symptoms that accompany BPH, including:
Urinary stream is noticeably slow or weak
Sensation of bladder not completely emptying
Difficulty beginning urination
Frequently urinating, sometimes only minutes apart
Urgent need to urinate
Frequent urination after going to bed
Starting and stopping of the urinary stream
Straining to urinate
Leaking or dribbling after urinating
Traditionally, BPH is treated with prescription drugs and/or surgery, although there are several excellent all-natural alternatives available (see below).
Prostatitis
Prostatitis is an infection of the prostate gland, can cause painful urination or ejaculation, blood in the urine, pain in the groin or lower back, and even fever with chills.
This condition is normally treated with the use of antibiotics.
Prostate cancer
Next to skin cancer, is the most common type of cancer found in men. Treatment often involves surgery, radiation, chemotherapy, and/or androgen deprivation therapy (ADT).
Prostate cancer can exhibit many of the same symptoms as BPH and prostatitis, and indeed, these three conditions are closely related. This is why it's so important to take preventative measures to keep your prostate in a healthy state.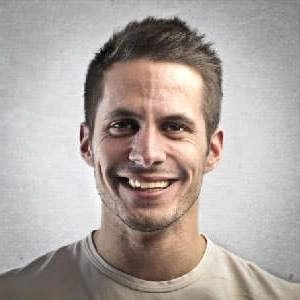 Mark McIntyre is the founder of MaleHealthReview.com and acts as it's chief contributor. He is a fitness trainer and avid mountain biker who also enjoys camping, hiking and fishing. Besides managing Male Health Review, Mark is also a guest columnist for several blogs related to men's health. More about this author…