Last Updated on May 19, 2021 by Mark McIntyre
Getting six-pack abs and a chiseled form isn't just about hitting the gym a few times a week.
Muscle growth is accomplished not only by lifting weights and taking workout supplements, but by eating the right foods and staying hydrated as well.
Correctly implementing this combination will ensure that you have lots of energy for working out, the muscles will quickly repair themselves and you'll achieve an eye-catching physique.
Muscle-Friendly Foods
Fruits and veggies are a necessary staple of all healthy diets. They provide things like fiber, vitamins and minerals, but aren't a good source of proteins.
Low-fat dairy is a high-quality source of protein, as well as carbohydrates and essential vitamins like potassium, vitamin D, and calcium.
Lean meats are not only an excellent source of protein, but iron (which helps transport oxygen to muscles) and amino acids like leucine, which has been shown to be a muscle growth trigger.
Dark meat poultry provides 300% more zinc than white meat and 25% more iron.
Eggs contain all of the essential amino acids, just make sure not to ditch the yolk. That's where half of the egg's protein is found, not to mention other nutrients as well (like lutein, which promotes eye health).
Nuts, whether raw or roasted, are a great source of protein and are packed with vitamins, fiber, antioxidants, and healthy fats.
Whole grains and beans provide high-quality carbohydrates combined with decent amounts of protein for muscle repair and energy, plus vitamins, fiber, and antioxidants.
The Importance of Timing Your Meals
Eating at the right time relative to your workouts is crucial to developing muscle since both carbs and proteins are necessary for engaging in strength training and repairing muscle tissues.
It's also a good idea to consume foods throughout the day which are high in nutrients and contain small amounts of healthy fats.
Eating something with good amounts of both carbs and protein before and (more importantly) after you work out is critical in order to provide your muscles with the nutrients they need at a time when they are most receptive for repair.
Try to time your workouts so that you can consume a post-workout snack or your next meal within an hour or so afterward.
Knowing How Much to Eat
At least half of the calories you consume should be derived from healthy carbs, since these provide energy to the muscles and prevent proteins in the body from being used an energy source. Therefore, it's always a good idea to eat some carbs before you work out.
Just remember, there's a fine line between consuming enough calories for promoting muscle growth and too many calories, which leads to an increase in body fat.
Not only does protein repair and build muscle tissue, it also aids in hormone production and keeping the immune system functioning well. According to the ADA, male endurance athletes should be consuming 1.2 grams of protein per kilogram of body weight, and male bodybuilders will need 1.6 to 1.7 grams of protein per kilogram of body weight.
Just consuming two cups of milk will provide around 20 grams of protein, which is the recommended amount to trigger muscle protein synthesis.
However, most of us don't keep up with the calorie count. According to Nancy Clark, author of Nancy Clark's Sports Nutrition Guidebook
, her advice to athletes is to divide their meals into four equally sized portions, consisting of three of the four following options: lean protein, fruit or vegetable, healthy fats and grains.
Clark says that the foundation of every meal is based on healthy carbohydrates with additional proteins: a turkey sandwich with cheese and vegetables, oatmeal with yogurt and nuts, or spaghetti with meat sauce and a salad are all excellent foods for bodybuilding.
The best option, while not practical for everyone, is to consult with a registered dietitian who can help to create a personalized food plan designed specifically for you.
Gains Require Putting Your Muscles to the Test
Let's face it, the only way you're going to get big, well-defined muscles is through some form of progressive resistance training – gradually increasing the amount of weight and strength used over time. You should be using weights that are heavy enough to fatigue the muscles after 8-12 reps, and muscle exhaustion after 2-3 sets.
If you're comfortably doing 13 or more repetitions with good form, it's time to increase the amount of weight you're using.
By pushing the muscles past their comfort zone, Clark notes, you are promoting muscle growth and increased definition.
The results you get from weight-lifting appear much quicker than with aerobic exercise, and the motivation you get when you start to see the results from working out will help you stay focused and committed.
However, how long it will take before you see an improvement in your physique depends on what your body fat percentage is. Even though you may be packing on extra muscle mass, an extra layer of excess fat will keep your results hidden without weight loss.
With 30-45 minute workout sessions 2 or 3 times per week, you should reasonably expect around 2 pounds of increased muscle mass per month.
Resistance training is critical to muscle-building, and really any good fitness program would be incomplete without some variation of it. Clark says that it's not only a great investment for your future well-being, but as the saying goes, "if you don't use 'em you'll lose 'em".
Maintaining our muscle strength is important as we age and helps to prevent conditions like osteoporosis, muscle atrophy and joint injuries. Ideally, you should work with a personal trainer who can show you how to perform muscle-building exercises with proper form to get the most beneficial results while avoiding potential injury.
---
See Also: 2023's Best Bodybuilding Supplements – The Best Supplements for Muscle-Building and Sports Fitness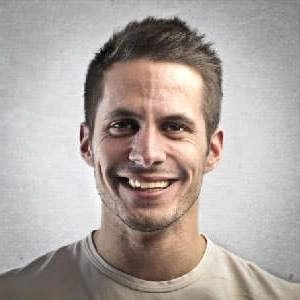 Mark McIntyre is the founder of MaleHealthReview.com and acts as it's chief contributor. He is a fitness trainer and avid mountain biker who also enjoys camping, hiking and fishing. Besides managing Male Health Review, Mark is also a guest columnist for several blogs related to men's health. More about this author…